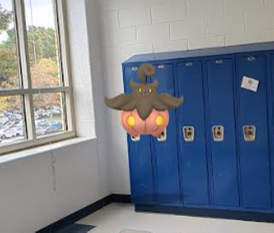 Unbeknownst to most students, there have been Pokémon lurking in the hallways this month. Pokémon Go has created special seasonal Pokémon and released them for Halloween fun. Many Pokémon have spawned and more have made their debut.
Though there are year-round events, The Halloween event is one of the biggest in the game.  It spans from early October to early November.. 
Harvest Festival 
The events kicked off with Harvest Festival, which featured grass types, evoking the haybales and cornstalks of fall.   In keeping with everyone's favorite October plants, this event includes Pumpkaboo, a cute pumpkin Pokémon, and introduces Smoliv, the Olive Pokémon.
For the uninitiated, you play Pokémon Go by using the app to spot and catch Pokémon here in the real world (Gotta catch 'em all, as the theme song says.)
One bonus during the Harvest Festival is the Mossy Lure.  If you activate the lure in a particular location, it increases the chance of attracting Pumpkaboo for the next 2 hours.
This lure specifically attracts grass types, which of course, abound this month.  In addition, this lure can help transform Evee (a basic Pokémon) into its grass form, Leafeon. 
In keeping with Halloween traditions, this event also rewards the player with candy. Candy is used to evolve and power up Pokémon..
Speaking of Pumpkaboo, it and its evolved form Gourgeist will be in Pokestop Showcases along with Smolive. There will also be increased chances of finding Bellsprout, Sunkern, Wurmple, Combee, Sewaddle, Petilil, Cottonee, Flabebe, Bounsweet, Pumpkaboo, and Smoliv. 
Halloween Part 1
October 20 is when the main event begins starting with the debuts of Greavard and its evolution. The event will feature ghost types as well as some dark types. Bonuses will be 2x candy for catching and hatching Pokémon, XL candy for high throwing scores, and hatching eggs. 
In the showcases, we will see Greavard, Shuppet, and Banette. There will be new music, stickers, avatar poses, and decor on the map.
In spawns, we will have Ekans, Zubat, Alolan Meowth, Gastly, Haunter, Spinarach, Poochyena, Misdreavus, Shuppet, Drifloon, Litwick, and Phantump. 
Sandygast can appear but it will be a rare spawn. All can appear shiny except Gastly and Haunter. These are mostly ghost types with a few poison types and a dark type.
Team Rocket Takeover 
As always, Team Rocket can't resist getting on the fun. From 10/26 to midnight on Halloween look out for the Team Rocket Takeover. Like always, the event includes special research to get a Super Rocket Radar. You can use this to find the Team Rocket Boss, Giovanni. This time, by battling Giovanni, you can receive Shadow Regigigas. 
By battling Team Rocket Grunts you can get Shiny Shadow Pokémon. The new, different shadow Pokémon are Gastly, Rhyhorn, Barboach, Cranidos, Sheildon, Drilbur, and Litwick. A lot of these have great final evolutions that can benefit a lot from being a Shadow Pokémon. 
In Shadow Raids, Shadow Lugia will be in the 5 Star raids. Golbat, Nidorina, and Nidorino are in the 3 Stars, and Litwick, Misdreavus, Gastly, and Grimer are in the 1 Star Raids. 
Halloween Part 2
This is the second part of the Halloween Event. The event will have bonuses such as additional candy and candy XL for getting better throws in Pokémon Go, and costumed Pokémon will give you additional candy as well as maybe rare candy. 
Shiny Zorua is making its debut too. Zorua will appear in the form of your buddy Pokémon. For example, if you have a Charizard as your buddy, the Zorua will spawn in the form of a wild Charizard. You won't know it's a Zorua until you catch it. 
The costumed spawns will be Vulpix, Pikachu, Piplup, and Gengar. Normal spawns will mostly be Ghost, Poison, and Dark types. Gengar and Ghastly will be in PokeStop Showcases. 
Part of the event will include opportunities to play in the Master League and the Halloween Cup Great League.
There are field research tasks you can do to earn Mismagius, Galarian Yamask, Greavard, and Phantump. There is also a timed research for the event. There are a few bundles of boxes you can buy in the shop, too. 
If you just haven't had your fill of hunting Pokémon, November will bring a DÍa De Los Muertos event as well, with more to come.  Happy Hunting!