Second-Hand Shopping Creates a Better Environment For Everyone
Julia Schildkraut spends her weekends browsing the dozens of racks of clothes at Unique, a local thrift store, hoping to find special items that she won't see anywhere else. The affordable and more sustainable options are what really hooked her interest in this way of shopping.
Unique, a thrift store in Falls Church, is a fan favorite amongst many Longfellow students, and they have all found their fair share of cheap and unusual clothing items there. 
"I feel that thrifting is a really good opportunity for creative people that like to express themselves," said Kathryn T., who enjoys looking for items that she can turn into new works of art. 
Kathryn sews, embroiders, and crochets and likes to thrift for different materials she can transform.
 "I found it was an awesome way to use my creativity and put it into my work," said Kathryn.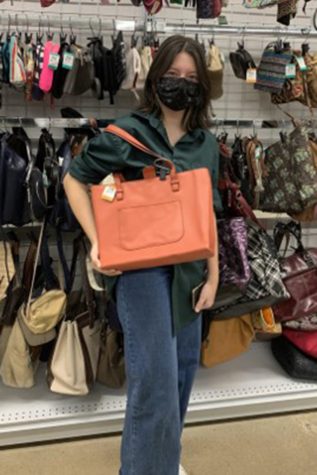 For more creative and fashion-oriented people, thrifting is a great way to create new pieces to show off and be proud of. They can look around for what may need a little work and transform it into something no one else will have. The unusual pieces that you can find for affordable prices really drew Juliana T. into the realm of thrifting.
For people looking to shop in a more environmentally friendly way and help even out the effects of fast fashion, thrifting offers a fun way to buy clothes secondhand and still have cute clothing. Fast fashion is terrible for the planet.
"The endless creation of new clothes comes with a heavy environmental price," said Ethical Consumer, an independent, not-for-profit co-operative. Their article, "What is fast fashion and why is it a problem?" goes on to explain the costs. "Every year, the sector requires 93 billion cubic meters of water, which is enough to meet the consumption needs of five million people, and is responsible for around 20% of industrial water pollution as a result of textile treatment and dyeing." 
Thrifting is a great way to save money and material instead of buying from fast fashion companies. Julia S. is an 8th grader who loves the shopping aspect of thrifting. 
"It's a sustainable way to shop for cheap," said Julia. Its wide variety can provide something for everybody.
Julia first discovered thrifting from TikTok and was intrigued by the fact that it was shopping with a bit of a twist.
 "I really like shopping, so I get to shop also for just a lot cheaper," Julia said. 
She loves the thrill of thrifting and explained how it's so different from shopping in a fast fashion store like American Eagle or Hollister.
 "It's like an experience because you're not like just going online or in-store and you see all the clothes, you get to go through each one of the racks, and you have to find the exact pieces and like try them on," Julia said.
For those who want a more interactive time shopping to thrift, you have to search through racks and always keep your eyes peeled. It definitely takes more effort to find items when thrifting, but you can also find many pieces that can be cool, statement clothing items.
"Anything and everything. I never look for anything specific, but rather, anything I find wearable. That's the fun of thrifting! They have so many options in one place," said 8th grader Annika S.
She touched on how you can go into a thrift store with no idea of what you want and come out with pieces you never would have picked out at your average fast fashion store. She also loves how environmentally friendly it is, as you are getting everything secondhand. She got into thrifting because of her friends, they invited her every so often, and she got hooked on how she could be resourceful in her shopping.
If you are looking for a fun activity to do with your friends, thrifting is a great option. You can all connect while going on a "treasure hunt" for clothes. You can all give each other style ideas, and you can even find books, room decor, and more to spice up each other's aesthetic. 
Goodwill, Second Chance, Unique, and Fia's Fabulous Finds are some of the many thrift stores in the area. However, many students at Longfellow, like Buse A., prefer going to Unique. 
"It's just everything that you find is unexpected, and it's different than what you would usually find in a normal store," described Buse. 
Buse loves the variety that thrifting provides. Its endless options and differing styles give it the one up to the limited options of fast fashion. Many fast fashion companies turn around quickly to always produce clothes that are what's trending, but thrifting has gems from lots of past trends that can up your confidence in your style.
It's a great way to develop your style without the overarching influence of peers and the trending style of influencers. 
When thrifting, you always have to have a keen eye because you never know what you may come across. You also have to realize, though, that you may go and not find anything. Thrifting changes day by day, so always keep an open mind and don't be discouraged when you aren't liking your choices. Always remember that you can also find unexpected things and unique pieces there, but you'll never know if you don't try.
Thrifting provides so many options for creating a new style that may not be what's trending at the moment but really expresses you. You can find clothing and fabric to salvage and transform into something new. You can search for old styles and timeless basics to wear every day. Everyone has different reasons for going but in general, people like the sustainable and fun way of shopping.