Despite Student Demand, Beverages Won't be Hitting Snack Machines Anytime Soon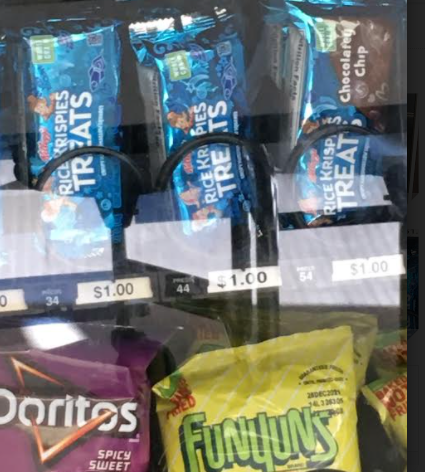 By Josh Barnes
The cafeteria vending machines have recently been stocked with a wider variety of snacks. The suppliers have moved past just supplying three different types of Doritos. Students have mixed feelings about the new additions and their own ideas of what they'd like to see offered.
Price is always in question with consumer products, especially in a vending machine. The vending machine has newly introduced Rice Krispie Treats and Funyuns. However, the new snacks' are controversial, mostly because they are smaller than the other snacks.
"Funyuns are worth less than a dollar's value," Karam Aburub complained.
He's not the only student who is unhappy with the price of some items.
"I think the Rice Krispie Treats are overpriced and should be around 50-75 cents," said 7th grader Karan Suri.
So far, the new additions remain solid foods, but many students would be happy to see this mini-renaissance of variety include soda or energy drinks. Despite the clear market for these items, they aren't likely to make an appearance.
"I would enjoy the vending machines much more if they added snacks like M&Ms, Skittles, Coke, and Sprite," said Karan.
Some wouldn't even mind a price change for soft drinks.
"I wouldn't mind paying a little extra to get soft drinks like sprite, root beer, coke, etc.," stated Svanik Kumar.
The idea isn't as far-fetched as it seems. The teachers' lounge already has a vending machine selling soda, unlike the student vending machine. Most students already consume soda outside of school anyways.
Mr. Barrows, the director of the after school program, has some answers. "I am not sure. I would imagine it has something to do with the sugar content in soda and juice beverages, but that is coordinated through the FCPS Food and Nutrition Services department, not Longfellow."
After school activity snacks also follow the regulation of providing dry snacks and not beverages high in sugar. "We provide a variety of peanut and tree nut-free snacks after school. Examples include Pirates Booty, Nutri Grain Bars, Rice Krispie Treats, Pretzels, Chips, and Oreos," said Mr. Barrows.
"It is a USDA regulation that we only sell healthy snacks during the day up through 30 minutes after the day ends," explained Longfellow's Principal Dr. Jim Patrick.  "It was put in place during the Obama administration."    
Basically, there is a conflict between the demand for beverages and the restriction behind it. According to the Food and Nutrition Services, "No school or organization will contract for or offer on its own any sale of food or beverage to students in competition with an established Office of Food and Nutrition Services program." This means that all schools, including Longfellow, cannot sell or offer any snacks that are not approved by the Food and Nutrition Services program.
In other words, sodas and snacks with high sugar content cannot be sold by schools during instructional periods. Instructional periods are defined as "the midnight before to 30 minutes after the end of the instructional day," according to the FCPS Food and Nutrition Services department.