'Wonder Woman 1984' Released on Christmas After 7-Month Wait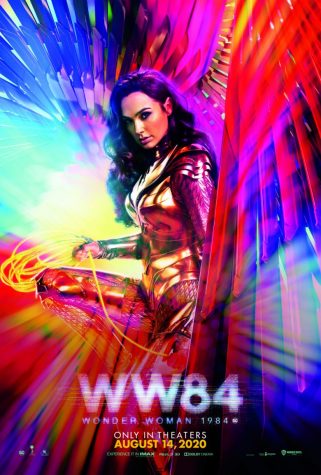 After multiple delays, Wonder Woman fans finally ended their wait for the long-anticipated Wonder Woman 1984. The film was delayed three times for Coronavirus concerns. Initially set to come out June 5, it was pushed to August 14, then October 2, finally making its big debut on Christmas. The movie was released simultaneously in theatres and streaming.
The first Wonder Woman movie was one of the best DC Comic Movies ever, bringing in 300 million dollars. The producers hope this dual release will help Wonder Women 1984 get more attention– Warner Brothers can not afford to lose a lot of money on this movie.
The problem for Warner Brothers was getting the movie to us. Superhero fans were overjoyed that even with Covid-19, the producers still found a way to release the movie.
"I was excited to hear it was getting made because it was filmed here and in the 80's setting," said Spanish teacher Senor Watson."
History teacher Mr. Kellams lives right near the now empty Landmark Mall where some of the scenes were shot. He is looking forward to seeing his neighborhood on film.
"I'm really excited to see what's going to happen with the mall," said Kellams. "To just see somewhere I drive by every single day [in a movie] would be really cool."
Kellams believes there will be a fight in the parking lot because one day, a bunch of cars parked there were turned over.
Wonder Woman is a huge franchise for the Warner Brothers, and when it was forced to be postponed, fans were confused about the release dates, some thinking it had already been released. Fans were not happy that the movie they had seen hyped with many ads and had been so excited to see wasn't going to be released after all.
Wonder Woman 1984 was being advertised long before the original release date, and fans were already excited for the movie when they heard it was coming out. Commercials and product tie-ins had been advertising the movie before even the first release date, which was seven months before the film was finally released.
"It was kind of awkward to see, like, Doritos bags and other things celebrating the movie that hadn't come out yet," said Kellams.
Before the break, fans were excited about seeing this female-driven action movie. Senor Watson was looking forward to the new suit and was excited to see what Wonder Woman does with her lasso of truth.
"Her strengths and abilities are really amazing. I think we need to have a woman with power like that. She's a great role model and great to dress up as for Halloween. We need someone like her with her power, we need more women characters because there are a lot of great women in the comics, let's bring them to the big screen," said Senor Watson.