Art Classes Create Clay Confections
Ms. Gibson's art classes took inspiration from Sugar Rush and The Great British Baking Show, when they embarked on their clay projects. Competing in table groups, students tried to construct a delicious (looking) masterpiece.
The wildly popular cooking show, The Great British Baking Show has been the inspiration for many ever since it first came out in 2010. In the show, several amuater bakers come together and must use creativity, skill, and improvisation to win. Ms. Gibson's art students decided to take a page from that book in their clay project.
The project entailed creating a delicacy using many hand building techniques. Slab rollling and coiling are a few of the clay sculpting methods that you've probably heard of in elementary school.
"First, we really have to do a lot of planning," explained art student Audrey H. "There's a lot of discussion with your teammates so everyone is on the same page before you actually start building anything. Then you sketch out your blueprints and build your first prototype. You use different clay for the prototype, and you build your test model. After you finish, you can build the real deal with the better clay."
The cool thing that makes this project unlike others is the fact that the students themselves contributed ideas to the rubric that they would be graded on. They had a panel of judges as well, just like the real baking show.
"[The grading] is mostly about the use of techniques," said Blake P., a member of the rubric committee. "It's also about quality, but there is quantity; there are size measurements and lots of different things that you can be graded on."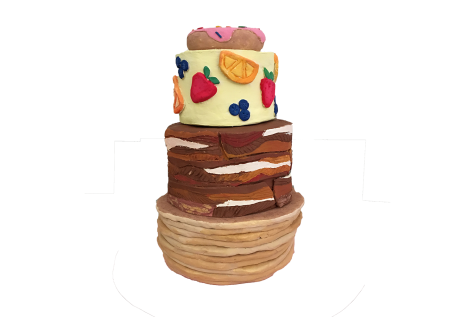 Another important thing to focus on is creativity.  "What it really comes down to," explained Audrey, "is how aesthetically pleasing your project is, and how creative your ideas are. So that's why a lot of people wanted the cake, because you could decorate it anyway you wanted, but there were also groups who went outside the box and did macaroons and sundaes."
Apparently, the tie breaker that they have decided upon is what would taste better in real life, with the prize being bragging rights.
Our art program is one thing that sets LMS apart from many other schools, and this project represents the overall goal of art here; to spread creativity and inspiration.
"I feel like this project is a very good way to get the artist thinking and actively using their brains while still making fun creative things that they can easily have fun with," explained Blake.