FACS Concocts Food Truck Franchises
A food truck competition has sparked excitement in Family and Consumer Science (FACS) students as they compete to see who has the most creative food business and delicious signature recipes.
In this year's final FACS project 7th and 8th graders will be designing a food truck business. This project requires students to create a business name, logo, business card, advertisement, and signature recipe. Whichever group wins, the whole class makes their signature recipes.
This project teaches students important skills, but at the same time provides a fun and exciting experience for them to create and imagine what their very own food business would be like.
"I did it last year with my 7th grade students and they had a lot of fun doing it, and it was very successful," said Longfellow's FACS teacher, Ms. Czifra, who is new to Longfellow this year. "This one student did Flip'n Chicken, and at the end of the presentation they did a flip."
In order for students to win, they must demonstrate good presentation skills, show their understanding of workplace readiness, design an eye catching advertisement, and most importantly, be very creative.
"We're doing a Cuban food truck, so we have a bunch of cultural foods," said 8th grade FACS students, Tatum K. "Our business name is Comida de Cuba, and our slogan is Vive Cuba."
Their slogan Vive Cuba means that Cuba lives on. They have decided on platanos con sala de lima, a Cuban dish made with platanos maduros, sour cream, lime, and jalapenos as their signature recipes.
They came up with the name and recipe from Katy P. who is Cuban, and she wanted to do a recipe from her grandmother.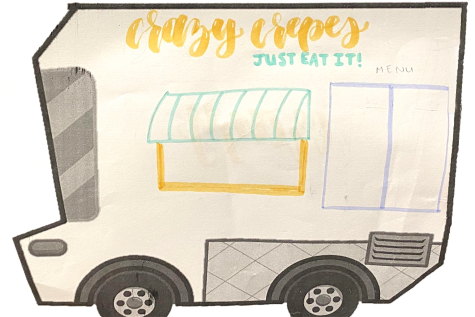 Each group of students have their very own, unique food choices, ranging from different cultural foods to crazy French crepes.
"We're doing quesadillas," said another 8th grade FACS student, Tanner F. "Our name is Cook Kids Quesadillas. It's fun and it's a good way to learn different recipes."By allowing students the freedom to use their imagination, and get a little crazy with their ideas, they become more interested and enjoy the class more.
"I think they are excited, because the more teachers can give students the opportunity to have choices, the more engaged they are in the lesson," said Ms. Czifra.
This project is not only fun for students, but it teaches them valuable life skills such as cooperation, teamwork, and more.
"The project is pretty fun. So far we're working well together," said King. "We have a lot of information that we have to share, and that's fun," said King.
In addition to the collaborative process, Czifra thinks it's important for students to consider what it's like to be a business owner. Making it a business changes the dynamic of working with a group—they are no longer just partners, but business partners.
From designing a creative business, cooking up tasty recipes, coming up with catchy slogans, and learning life skills, this project provides an experience that students will never forget.