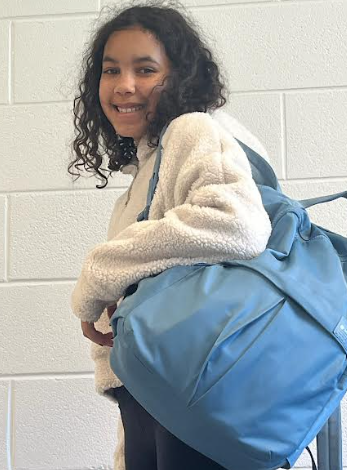 Womens Wear Daily reported in January of 2023 that Lululemon is the second most popular sportswear brand in the U.S., second only to Nike. 
"So many people wear it," said 7th grader Lucy Parish, whose wardrobe includes several Lululemon items. "You would it's a really good product and it is! I really like how it looks." 
When the company started in 1998, owner Chip Wilson was committed to having a positive impact on the quality and fit of women's athletic wear.  His goal, as stated in the company's mission statement is to  "elevate the world from mediocrity to greatness." 
"It's comfortable and good for activities," said 7th grader Jocelyn Finnegan.    " They don't break,  they don't rip most of the time." 
Lululemon has various clothing options that are good for athletic sports. Their product information shows that "the four-way stretch in their clothing creates more opportunities for unlimited freedom in movement." 
Part of their popularity comes from their distinctive, community-based marketing and advertising. Lululemon is committed to making sure that their customers get the best of what athletic wear can be.  Their mission includes ideas about community.  In fact, their acronym for  IDEA  means Inclusivity, Diversity, Equity, and Action).
So their mission is to "Expand being well to encompass a culture of inclusion where diversity is celebrated, equity is the norm, and action is the commitment." 
According to Business Model Analyst, an industry publication, Lululemon's vision statement asks people to join "a community dedicated to 'living the sweat life,' which means having an active lifestyle with a focus on physical activity, growth, and connection. Lululemon believes that living an active lifestyle helps bring people together in meaningful ways."
Despite the changing trends in the clothing industry, Lululemon still rises to the top.  Lululemon's clothing is outstanding, according to many Longfellow students. Lululemon is comfortable, great for activities, and has great quality. They continued to adapt to the changing athletic wear shifts. 
Lululemon's commitment to quality, community-building, and aspirational marketing, has created an energy that sets it apart from other competing athletic brands. As the athleisure trend continues to thrive, it is safe to say that Lululemon's popularity will rapidly evolve.