Model UN Team Wins Awards at International Competitions Across VA
They were only three conferences away from the end of the Model UN season, and the clock was ticking. After a hard-fought defeat at their last conference against Longfellows' rival schools, the team needed a big win in the next few months. After countless hours of planning and dedication to the club, the delegates from Longfellow's Model UN team were finally able to overcome the barriers of challenge and soar to success. The delegates brought home 12 awards, ranging from verbal accommodation to outstanding delegate. This push of hope was able to give the Longfellow Model UN team to place 4th best in the state of Virginia. The delegates that earned these awards were: (Mustafa F, Artin S, Arnav K, Nubaid K, Raghav K, Ishaan J, Ian K, Yoenso K, Bryce Y, Selina L, Claire Z).
Preparing students for the future
Students are told that one day they will be faced to solve the world's problems. If that sounds like a daunting task, there is a club that can help you get a head start on working with others to solve the world's current problems: Model United Nations (Model UN).
What is the Model United Nations? 
The United Nations is an organization where delegates come together to solve problems with diplomacy and cooperation, which mimics the real United Nations. The club is run by Secretary General Mustafa F. and hosted by the sponsor Erin Caswell. Model UN teaches students how to be a leader one day.
"Some problems are so big—and I wonder how we are ever going to solve them," said Mustafa. "But when I think about the United Nations—how countries work together to solve a problem and think of a practical solution—it really changes the way I think about work and makes me feel more optimistic about how the world can solve its problems."
Why join Model UN?
The Longfellow Model UN teaches students the skills of leadership, collaboration, and critical thinking.  This helps them become more comfortable speaking in front of people and presenting solutions to the rest of your group. It also helps students become leaders by collaborating well and brainstorming solutions.  Along the way, it teaches members many life skills.
"The club has helped me build up a lot of different skills which I use in my daily life, such as leadership, collaboration, and critical thinking," said Mustafa.
 As Secretary-General, Mustafa is learning how to lead.  Working together with other delegates at conferences requires collaboration, and finding solutions requires critical thinking.  
Model UN meetings 
 In the meetings, the officers simulate "mock" conferences, which prepare students for the real conferences.  This helps students get a better understanding of what to expect. The students work hard to create a solution for the given problem. 
"They surprised me all the time," said Ms. Caswell.  I'm always surprised at how much background knowledge they bring to the conversation and how many things they know about the issues they're debating, even if it's something that we just gave them the same day."
Preparing for a Model UN conference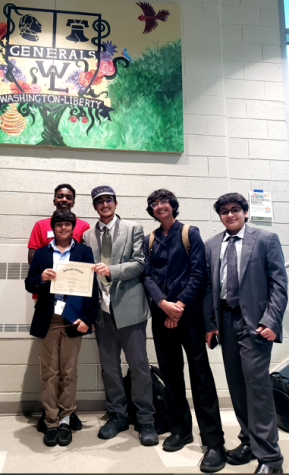 In Model UN, students across the state, known as delegates, participate in different committee sessions. Students who sign up will usually get to choose their committee—options include the crisis committees or the general assembly. Based on the number of delegates scheduled to attend, they are assigned countries, then proceed to research and write their position papers. 
When it comes to preparing for a Model UN conference, there are many topics that delegates need to prepare for debate. The Under Secretary General of Model UN, Claire Z., finds working on the World Health Organization committee particularly challenging.
"The topic is abstract, and there are not many solutions that exist, so coming up with a real solution will be really interesting," said Claire. 
There are also special committees to simulate current and fantasy events and groups, for example, Santas Helpers and the Twitter Board of Directors. These committees are for delegates who want to have a new Model UN experience.
"I like knowing the topic of debating as early as possible, which usually means making decisions soon after I see all the topics," Claire said. "The high school sends a list of topics and countries to the Secretary-General, and the Secretary-General assigns positions."
What happens in a Model UN conference
In a Model UN conference, one by one, people representing their countries come up and give a speech on their topic and how to address the issue. Though it is described as a debate, it is not organized like a typical debate competition. Instead, there are judges who decide who the best delegates are. Delegates participate in an unmoderated caucus, which means they simply discuss different solutions to the assigned problems. This format helps delegates work together to reach a collective agreement.  The goal is for students to work together and collaborate instead of forcing one's opinions and plans on someone else.

Impact on the future
Model UN helps students become better leaders; helps them develop efficacious communication skills; and helps them collaborate and coordinate better; all while ensuring that they have fun and enjoy this invaluable club. The Longfellow Model UN Club truly ensures that students are prepared for the future and prepared to lead the world as a collective for the better.