Taylor Swift Keeps Breaking Music Barriers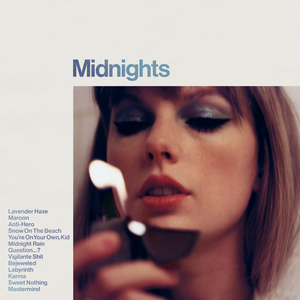 Singer and songwriter Taylor Swift released her tenth album, Midnights, on October 21st, 2022. Fans expected this album to be a mix of her past indie albums, Folklore and Evermore, but it turned out to be a pop album like Lover and 1989.
In its first week, Midnights sold  1.140 million copies, including 575,000 copies on vinyl, breaking the record for the most vinyl albums sold since Luminate started tracking in 1991.  
Taylor Swift became the first artist to hold all ten top spots on the Billboard Hot 100's in a single week. Also, thanks to Midnights, Swift made history when she became the first artist to debut on the Top 100 and Billboard 200 at the same time four separate times. 
According to Entertainment Weekly, Midnights became the most streamed album by a female artist, with 357 million streams in the first week.  The album finished 2022 with over 35 billion streams.
Five years before Midnights, one of Swift's past albums, Reputation became the album with the highest number of records sold in the first week with 1.216 million sales, but Midnights broke that record in just four days. 
On January 17, "Anti-Hero" broke another record, holding Billboard's number one spot for eight weeks, surpassing her song "Blank Space" which held the spot for seven weeks in 2014-15. 
When Swift announced the Midnights album on August 28th, 2022, at the MTV Music Awards, supporters were excited. It is the first new music she has released in a while after re-releasing new versions of her early albums Red (Taylor's Version) and Fearless (Taylor's Version) in 2021. With those, Swift once again bucked tradition by getting the rights to her songs back from the record company.  Fans flocked to Taylor's Versions in order to make sure she is the one profiting from her music.
When Taylor announced her Eras tour in November 2022, she broke Ticketmaster. She notoriously sold out thousands of stadiums. It was almost impossible to get tickets.  She then sued Ticketmaster, potentially improving accessibility for millions of concert-goers.
No matter what you might think of her music, Taylor Swift is a force to be reckoned with.