Teachers Talk Tattoos
As tattoos become more accepted by society, more and more teachers are starting to show off their ink. As it turns out, every tattoo has a story behind it.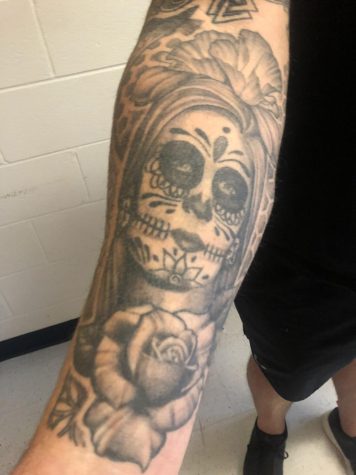 PE teacher Todd White has a large tattoo of his grandmother on his upper arm in the style of a day of the dead skull.  
"She was a big part of our lives, connecting our family and holding it together," said White, "so I did it in honor of her."
Fellow PE teacher Amanda Creeden has a few tattoos, but her favorite also honors family.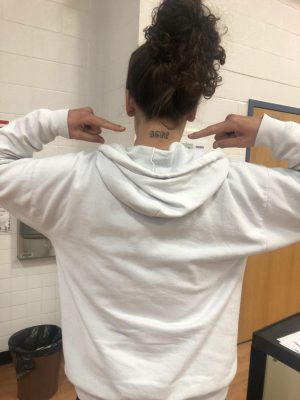 "My favorite tattoo is actually written in Russian, and it stands for faith," Creeden explained. "I got it when I lost my aunt and uncle, who were like a second set of parents for me. It was a hard loss, but I wanted to remind myself that no matter what happens in life, you gotta have faith it's going to work out."
Ms. Creeden likes sharing her stories, as it helps her build a connection with students who may have experienced loss. 
In addition to honoring family who has passed away, some focus on the next generation.  Creative Writing teacher Andrea Duggan has two tattoos that represent her two children.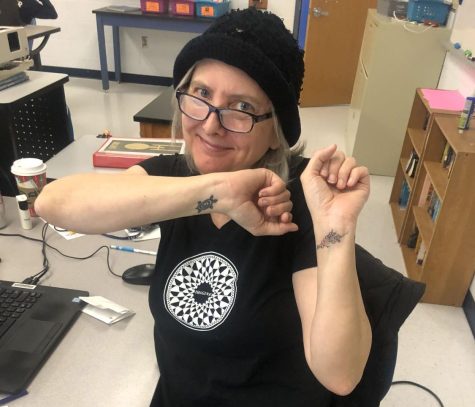 "The cherry blossom is for my youngest child, who shares my love for cherry blossoms," said Duggan,  "and it also embodies their bubbly spirit.  The blossoms symbolize rebirth and new beginnings, and since my kid is non-binary, that definitely fits.  They changed their name and really embraced a whole new identity. " 
Her second tattoo is a symbol of her oldest child. "She has always been drawn to turtles, and I know it symbolizes wisdom, steadfastness, and tranquility, which absolutely apply to her."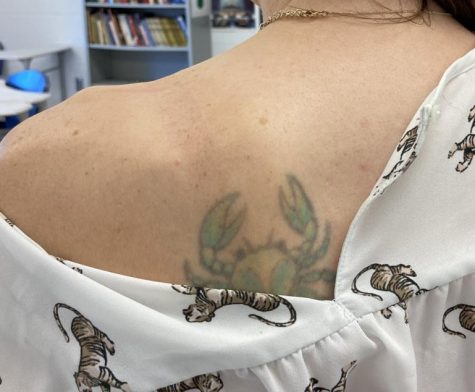 Sometimes, the focus of the tattoo is personal.  History teacher Stephanie Haley got hers at age 21 and wanted something that wouldn't change over time, so she got the symbol of her star sign.  She's got a rainbow crab on her shoulder, the symbol for Cancer in the zodiac.
Principal's assistant Tara Fortune also went for astrology, but hers is more elaborate, and she designed the picture herself.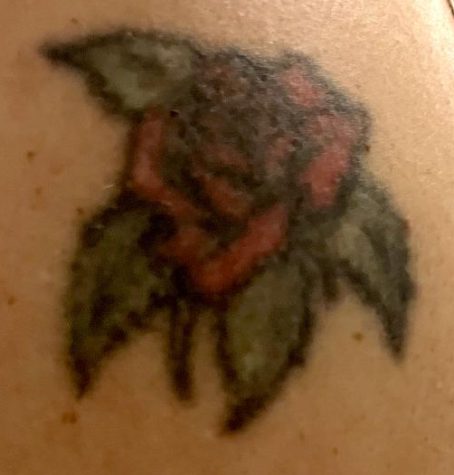 "[It] is a Pisces sign, and it's got a rose intertwined in it, and it's got my ruling planets, Jupiter and Neptune."  The rose is a recurring theme, as she also has a single rose on her shoulder.  It is her favorite flower.
Whatever the reasons for tattoos, they are very personal.  Next time you notice one, it might be a great opening for a conversation.