Longfellow Artist Paints Shoes For NBA Player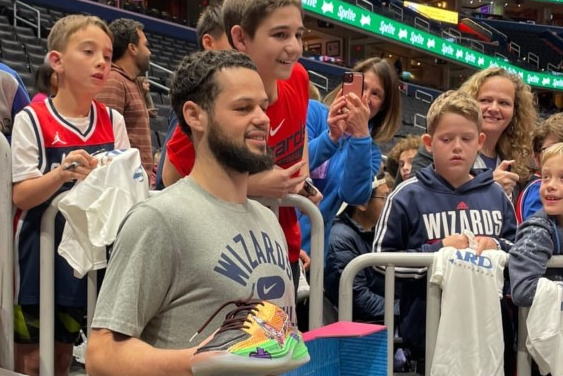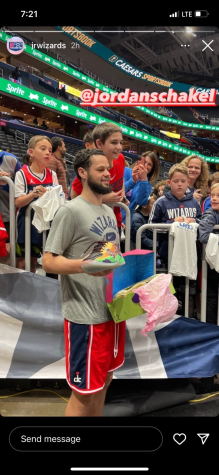 It's not often students get to meet their heroes in person. However, Matthew L., an eighth grader at Longfellow, not only met Jordan Schakel, a player for the Washington Wizards, but presented him with a hand-painted pair of shoes which Schakel wore during the game on November 13th, 2022. 
Matthew said Schakel messaged him on Instagram, where he posts his creations regularly, asking him for a pair of shoes with a Rick and Morty or Spongebob design. He showed Schakel a couple of mock-up designs showing his ideas. Schakel's favorite was the Patrick Star design.
On November 13th, Matthew went to the Wizard's game against the Memphis Grizzlies and visited Schakel before the game, presenting the painted shoes to Schakel in a gift box. Matthew posed for a picture with Shakel before he put on the shoes. 
"Schakel walked around the court showing them to teammates and others courtside," said Matthew's parents in an email to art teacher Diana Gibson. 
The Wizards beat the Grizzlies 102-92 at Capital One Arena. Schakel wore the shoes for warmups and during the game, but, sadly, Matthew said, he didn't play in the game. Matthew's dream is to be an NBA player. "It was really amazing to meet someone who is carrying out my dream."