A Shelf of One's Own: Manga's Popularity Helps Genre Move up in the World
Though the numbers won't be in until next year, Librarian Megan Saladino estimates Manga checkouts are second only to Fantasy.  With so many students reading Manga, Longfellow's librarians decided to make these books as accessible as possible.  
"Before, we just had one giant graphic novel section where all the graphic novels and Manga were mixed together in alphabetical order," explained librarian Lisa Hoyle. 
Now, the most prominent shelf in the library houses the Manga collection. That's pretty good for a sub-genre.
In Japan, Manga refers to all print animation, but here in the U.S., Manga specifically refers to a Japanese style of graphic novel.  The subject matter can be anything,  comedy, action, horror—whatever genre you like.
In 2021, manga sales more than doubled from 2020, according to Comicbook.com, and the trend is continuing upward.  According to The Guardian,   "manga was the leading growth category in the total print book market in the US, outpacing the next-highest growth category (romance) by three times."
The best-selling manga in the world is One Piece by Eiichiro Oda, with a surprising 500 million copies sold; that is a lot compared to the second best-selling, Golgo 13 by Takao Saito, with 300 million copies sold (200 million copies less than One Piece). 
Featured in Longfellow's collection, One Piece is about a young man seeking to find the legendary treasure known as the One Piece and become the king of the Pirates.  The series has 102 volumes, and students routinely check them out three at a time, the limit for Manga series (1 more than the limit for fiction series).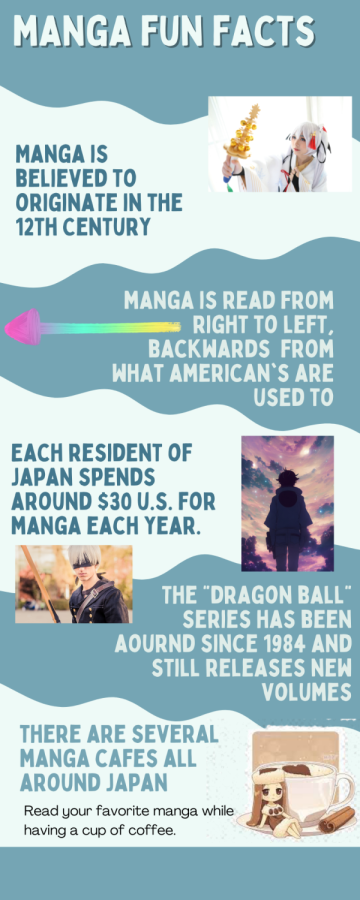 "Students tend to read the manga faster," explained Saladino. "We allow them an extra book so they can continue reading the series." 
With so many checkouts, one problem is getting the books back so others can enjoy them as well.  
"We still have some book 1s that were checked out at the start of the school year that have not been returned," added Saladino. "Of course, this can happen at any point of a series; for example, I have one series with a book 10 that has been overdue since October.  Unfortunately, we have five students who were also reading that same series, and those students can't read book 10 until I buy a new copy." 
Unfortunately, the digital manga collection hasn't kept pace with the physical one, so students can't easily work around the missing books. 
Despite these issues, the librarians are thrilled that the books are circulating. Many times students will finish their three books in the same day and come swap them for more. So head to the library to see what all the fuss is about.