Students Embrace Bracelets
Beaded, loomed, or linked, Longfellow students are embracing bracelets. Handmade or heirloom, loaded with charms or stamped with a message, the trend this year seems to be: more is better. 
In one video captioned "This is what I get for being a bracelet type of person," a user named Laila (ily.laiila), who has 11.8 thousand followers, shows just how long it takes to take off her many bracelets before taking a shower.    The video has 791.9 thousand views.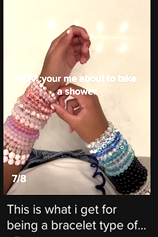 Beaded bracelets, like those Laila, is wearing, are a favorite and are simple to make. All you need are beads and string. Tie a knot at the end of the bracelets to keep your beads from falling off, then design your bracelet with the available colors. Tie it all together when you are finished, and you're good to go.
"I like my beaded bracelet the most because it means a lot to me," said Gisele Z. "It was made by one of my very oldest and best friends, but she moved away."
Many of the beaded bracelets you see in the halls are handmade by students themselves or their family members.  Eighth grader Elise L. has a colorful beaded bracelet she received as a Christmas gift from her aunt, who has started a business selling them.  
However, Elise most wants to get a Pura Vida bracelet to match her mom's. Pura Vida is a Costa Rican brand recently bought by designer Vera Bradley.  According to their website, "Each one is handmade, waterproof and totally unique—in fact, the more you wear it, the cooler it looks." 
These bracelets celebrate the Costa Rican way of life. They are made of string, like friendship bracelets, but they are handcrafted in Costa Rica, and each one is unique. 
Not only are students wearing bracelets, but teachers are as well. Theater teacher Sarah Barry's favorite one carries a message of joy. 
"I noticed during the pandemic that the thing I was missing the most while being in quarantine was joy. Being in Longfellow and being with kids and being with my coworkers was very joyful. Since then, I'm always trying to look for joy in everything, and I like this bracelet because it's always telling me to choose joy," Barry explained.
Having a positive message on your wrist can be a great way to remind you of positive things in your life.  Wear them to add determination, self-affirmation, hope, and perseverance.
Nautical bracelets, a Croatian company, sells a variety of bracelets online with simple messages like "Dream big," "be yourself," and "Listen to your heart."
Whatever your style, bracelets can brighten your day with a dash of class.