Proxies Are Killing Student Productivity
FCPS's biggest weakness in their efforts to control how students use their school-issued devices is the use of a blacklist to block websites. A blacklist is when all websites start unblocked and need to be put on a custom block list. This approach allows students to constantly find or create new games, proxies, or sites that might otherwise be blocked.
FCPS uses Lightspeed software to filter internet content. According to the FCPS website, Lightspeed categorizes websites, and FCPS chooses which categories to block in accordance with their policies. This approach creates a cat-and-mouse situation where students are finding or creating new sites, and the county must continually identify and then block them. This situation plagues their ability to "provide students reasonable protection from inappropriate Internet content," as outlined in FCPS School Board Policy 6401 and mandated by the Children's Internet Protection Act (CIPA0, passed in 2001.
The cat-and-mouse situation is inconvenient for students who need to access blocked sources, which is where a proxy comes in handy, although most students use them to play games.
According to Norton VPN, a proxy is a middleman between your computer and the internet. Basically, your computer sends a URL (Uniform Resource Locator) to the proxy server, and the server retrieves the site, downloads it, and sends it to your computer from the proxy address. Any firewall restrictions no longer recognize the site and thus don't block it. This is a bit complicated, so here is a visual: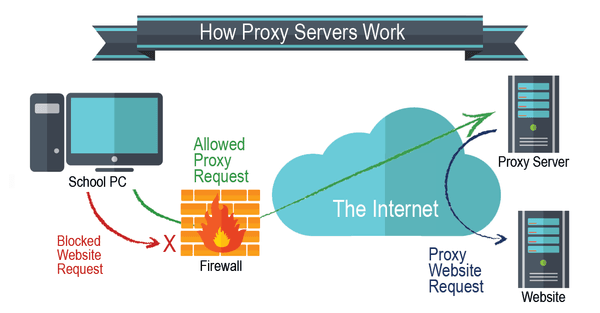 There are many different types of proxies:
HTTP proxies




These proxies give you unrestricted access to websites on the internet, they also hide your location, so if a website is banned in your country, you can access it.

SOCKS5 proxies




These types of proxies not only provide access to websites but also to streaming services.

Transparent proxies




Transparent proxies are used by employers, parents, and anyone who wants to filter search content. Parents can install these on a kid's computer to filter out inappropriate content, and employers can use these to keep their employees focused on work.
Before you go and try to play Minecraft and watch Minions 2 in English class, be warned of the consequences. Other than the fact that playing games in class is not allowed, it can be dangerous. Proxies are far from perfect; they are a free substitute for VPNs, but they come at the cost of security.  
"If it's not a secure proxy, it will say on the top pop-up, then you should probably get off of it immediately," explained a student who has asked to remain anonymous due to their extensive hands-on experience with proxies. "Most proxies, though, are secure because they use their own code (and servers) instead of taking it from sketchy websites," they added.
Despite our source's assertion, safety highly depends on whose proxy you are using.  According to MakTech, a blog dedicated to providing tech information,  it is important to know the provider behind the proxy server. If the provider has malicious intent, then they can compromise your security. MakTech characterizes some proxy's as dangerous to use.
The FCPS Acceptable Use Policy for Students Network Access clearly states that using a proxy will result in consequences:
"Students are prohibited from tampering with FCPS technologies and attempting to circumvent security policies and controls enforced by the Office of Cybersecurity (OCS), such as, but not limited to, accessing the internet via proxy or unauthorized VPN services." 
Don't tell yourself it's ok to use proxies just because everyone else does it; they harm student productivity and their ability to do well in school. They are a part of a larger problem of students misusing school-issued laptops.