Writing Center Lets Students Get Help From Peers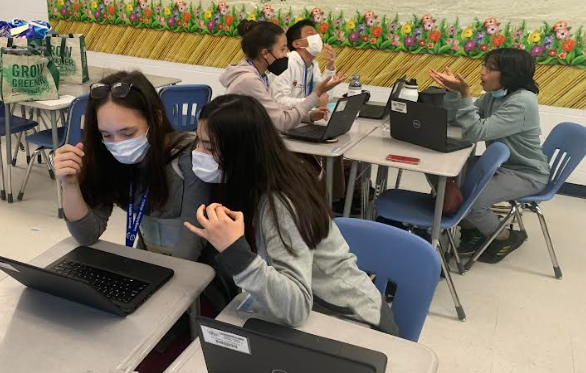 For some, writing can be a tedious job. Asking for help when you need to or being confident in your skills can be difficult. WritingCenter is a way for students to ask peer mentors for help with writing and open up about the difficulties that they are facing— whether it is proofreading, re-writing, or coming up with ideas for their next essay. The group showcases great leadership skills by mentoring, sharing similar experiences, and giving feedback that will help the students attending polish their pieces.
"The group is a resource for students who are struggling with their writing—to help with ideas, or help with structure, or to help with focus, or to help with editing," stated English teacher Bruce Wilson who sponsors the group.
Hope T., an 8th grade consultant, has decided to join this group to teach kids writing and share similar experiences.
"I really enjoy writing and figurative writing, and I wanted to help others find their creativity within their writing," said Hope.
She didn't have any big expectations but enjoyed this experience.
During their first meeting, the consultants learned about their responsibilities as tutors and brainstormed ideas on what they could do to have attendees feel pleasant during their session.
"The consultants have to be able to work well with others; they have to be able to listen to their ideas and read what they have written down, and provide positive feedback in a way that doesn't discourage the students who come in for help with their writing," said Mr. Wilson.
Some of the members, like Momo T., thought about having a greeting before the meeting with the students. After careful consideration, the group came up with the acronym HI-R.O.A.D.S.  This acronym serves as a reminder of the steps that the consultants can take to guide them through their time with the students.  It stands for:
R– relate to your client,
O– only the client will write (because it is their work,)
A– ask questions to see what the client wants and how best to help them,
D– discuss things that the client may have overlooked or other ways the client may improve their document, and
S– say, "is there anything else I can help you with?" If not, thank them for visiting the Writing Center and sign them out.
"One thing I do is that I try to teach them writing step-by-step and guide them through the steps, and try to make them feel comfortable," said Andrew Chen.
Making the attendees feel like they can ask questions without feeling rattled is a way to present great leadership skills.
"I like to let them give input, and then I see what I can give input [about] and sort of correct based on their ideas. And most of the time, the student already knows what they've gotta do," said writing consultant Atul K.
Just like Atul and Andrew, all of the members voiced their opinions about the ways that they can help their clients without overwhelming them.
"A lot of the time, we brainstormed ideas because a lot of the time, students come without knowing what to write, and we try to figure out how to improve their writing," said Momo.
One thing the group would like to do in the future is to go to the English classrooms to talk to students instead of just waiting for students to come to them.
As children grow up, it can be challenging to admit when they need help. The "Writing Center" enables students to openly ask for help from other experienced mentors without feeling like they are bothering their teacher.
"The first person who created the writing center on sight here is Mr. Gillespie, and when he left, I took over. I've been running it for about 6 to 7 years now, and it has been a great tool for students who need help with their writing," said Mr. Wilson.
Writing Center doesn't only allow consultants to showcase their skills by stepping up and helping their clients—it also shows that adolescents can be confident and friendly towards those asking for help.