LMS Student Participates In the VA General Assembly
You may know that every year the Virginia General Assembly convenes in Richmond, but did you know that middle school students can participate in this process? Michelle L., a student at Longfellow, has had first-hand experience working as a student page for the Virginia General Assembly for two months this school year.
This job entailed completing various tasks. Some days pages manned the telephones; other days, they fetched lunch for the delegates.
"I worked in Committee Operations as well as Information and Communication Services. [In] Information and Communication Services or ICS, I answered phone calls from the public and made materials for the delegates on the Chamber Floor; I also ran a lot of errands. In Committee Operations, I had to bring bills that were passed in committees to Journal and Records, which is where they store all the bills. That was my job, but I also helped the committee staff there as well," said Michelle.
Since this program took place during the school year, Michelle had to juggle keeping up with schoolwork as well as her new job.
"Many teachers were very nice and interested [in the program]. Two of my teachers already knew about the program because they have had students [participate] before, so they knew what I was going through. We had study hall every day for two hours. Obviously, you can't make up an eight-hour day of school in two hours, but we had tutors in all different subjects, so if we needed help, we could ask them. So, keeping up with schoolwork wasn't terrible," she said. 
It wasn't all work, though – pages went on several excursions while working in Richmond. One such trip was to the Governor's mansion, where they met with the Governor and heard him speak. Other places they visited included the Virginia War Memorial and the Library of Virginia.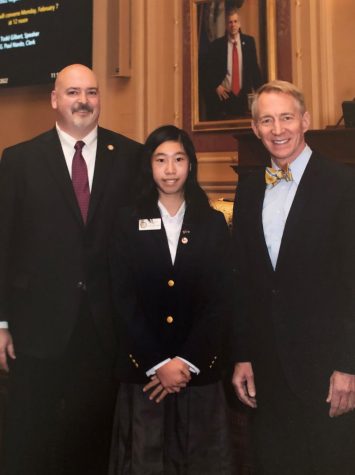 "I found those things really interesting because not a lot of people will get to go to those places and get a behind-the-scenes tour," said Michelle.
Through these experiences, Michelle was able to learn more about her government by observing its inner workings. At the end of it, some of her perspectives had been changed.
 "Before the General Assembly, I always thought that Democrats and Republicans disliked each other just like the media portrays the two parties. But, after being able to be in the live sessions of the General Assembly every day, I have realized that while Democrats and Republicans disagree on many things, they love working together and reaching across the aisle to help create bipartisan bills and are great friends. All the Delegates know one another and are able to know that while their viewpoints may not always be the same, they will always be open to the other party's ideas, even if the media doesn't show them that way," she said.
While it was a big commitment driving to and from Richmond on the weekends and sacrificing time at school, Michelle says it was worth it to have these experiences. Through this program, she was able to get to know her delegate, meet many political figures, and learn more about Virginia's government.
"If you're really interested in something government-related or you just want to participate in your government, it's a really cool way for teenagers, especially middle schoolers, because there aren't a lot of opportunities for them to be a part of their government and learn from the delegates who were elected from all the different districts," she said.
Next year, when the General Assembly convenes again, eligible students like yourselves will have the opportunity to work as pages.