8th Grade Students Ready for Freshman Year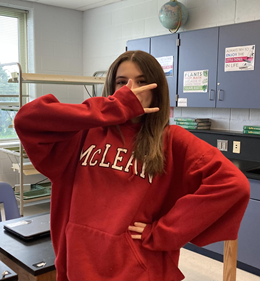 On August 22nd, 2022, this year's Lancers will be walking the halls of McLean High School. This marks a big day in everyone's lives, so we gathered some student opinions on this first step into a larger world. 
"Although I'm in 7th grade, high school will be both one of the most stressful and exciting years of my life," said Martina Cantua. "I'm going to get to try out amazing clubs and classes and even play new instruments, but I'm going to be drowned in homework, but I have my friends to help me." 
Though Martina is excited about high school, she is aware of the stress that comes along with it.  The Washington Post reported a survey back in 2014 entitled "Stress in America" that suggested teens were already at unhealthy stress levels. The story, entitled, "Stressed out teens, with school a main cause," indicated that these teens were uncertain about how to manage the stress.
However, new electives that can help with stress and anxiety will be an option for those who need them. Students are looking forward to more opportunities to learn about their passions like sports, photography, or writing. Alexandra M.  wants to take Journalism and French, Henry M. wants to take Intro to Marketing and Guitar, and Holly D. wants to take Photography and Art. 
Hearing from someone who has already gone through high school is also important to prepare for the larger school. Mr. Kellams explained that in his high school experience, there was lots of school spirit, social freedom, and less care for social media. He says that social media was in its "infancy" and that it took out lots of concerns that we would have now.  
Now, what would be the start of a new phase of life without some fun competition? Eighth-grader Sawyer R. is looking forward to setting the tone for the rest of her family. 
"Since I'm the oldest person in my family, I plan on doing my best, so my siblings can't compare," she said, adding,  "I am truly excited for high school, but there will be issues in the beginning." 
It's important to have some fun while in stressful situations, and with this fun rivalry, Sawyer seems that he will be A-ok. 
Freshman year is tough, but once these students can get used to it, they will be able to persevere through the rest of their high school experience. Although people can be nervous about school, the best years of their lives are bound to happen.