Lancers Voice Opinions on Masking Choices
The debate over mask mandates has always seemed like such a complicated subject, but now that it's been lifted, the decision to wear or not to wear a mask seems even more complicated.
"I think that other students have respected their peers, understanding that it's a personal choice and that they can't really force someone to wear their mask, or to not wear a mask," said Courtaney K. Courtenay has continued to wear her mask because she considers herself "a big germaphobe." 
"Mostly, my parents decided that it was best to keep wearing them for my family situation and because my mom has to frequently visit my grandparents sometimes, so we kinda just want to make sure that everyone stays safe over there," said Courtaney. 
Family situations are a very important factor in whether or not a student wears their mask.
"I really didn't have a choice," said Leyal B. "My mom and dad told me I would have to wear a mask if I wanted to keep my phone."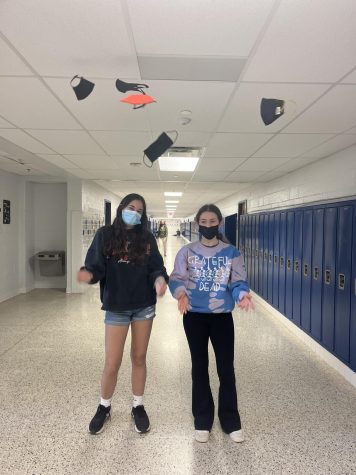 Leyal's family contracted covid after Christmas of 2020, and a close family member is dealing with long covid.  "It may not seem like a big deal, but it is," says Leyal. 
At the beginning of the optional mask mandate policy, students were urged by staff to talk to their families about it. Families' and friends' opinions on masking have affected students based on their situation and experiences with covid, their lifestyle, family's financial situation, and who is in their family. For example, some families have young kids who are unable to be vaccinated, while some have older people who are more at risk when dealing with covid. Others want their children to get back to normal.
"My dad doesn't want me to wear a mask, so in certain classes, I do take my mask off because I'm more comfortable with the people in that class," said 8th grader Samar H.
Reasons like these are a part of why it's important to stay respectful of people's masking choices. However, some families have left it up to the student to make a smart decision that they feel is best. Students have been wearing masks so long, they have social and emotional reasons for wanting to wear them or leave them behind.
 "I've heard a lot of people saying that people's faces were different than what they imagined, calling them maskfishers," says Laura M.D. 
Maskfishing is a play on the word catfishing, which is commonly used to describe someone who pretends to be someone else online.  The implication is that somehow, people are intentionally obscuring their true identity behind the mask or that they look better with it on than with it off.  It's not a nice thing to say.
Another reason why students may not want to remove their masks is because of insecurities,
"[I've heard] a lot of people talking about how they feel uncomfortable taking off their masks because they don't want people to see their faces. Then some people talk about how people look with and without a mask on," says 8th grader Elizabeth T. 
Math teacher Patty Freeman pointed out that complexion wasn't an issue with the masks, so for some students, unmasking means revealing the very normal skin conditions that happen during adolescence, like acne. Middle schoolers have many insecurities, and for some, the masks were a way to hide them.
Wearing masks is a very controversial subject around the country, as well as in Longfellow. The Longfellow administration has prioritized respecting everyone's opinions and choices. Leading up to the optional mask policies, the admin made it clear that it is important to respect one another. 
While most students have been respectful of others' masking situations, Leyal described a small number of people who have been yelling in the halls 'everyone take your masks off!" 
 "I feel like that kind of adds gasoline to the fire," Leyal said.  
 Eighth grader Assia L. expressed a similar feeling.
"Some students have respected classmates and other kids in the school, and some haven't. So it's kind of a mix," said Assia. 
Peer pressure like that described by Leyal and Assia is another reason why many students choose to wear or not to wear their masks. Even without anything being said, peer pressure can influence students' decisions. If a group of students is wearing their masks, someone else may feel like they should be wearing theirs, and vice versa.
Ms.Freeman congratulated Longfellow students on how they've handled the new mask policies. In speaking with colleagues at other schools, Freeman discovered other students haven't dealt with the change as well. 
"I think Longfellow kids are very respectful of one another," said Ms. Freeman.
Longfellow has worked very hard to create a safe and respectful community during these new changes. Between contact tracing and masks being worn at all times, we've created a school where covid outbreaks have been minimal. Still, while we're doing a good job handling this difficult situation, some students are very relieved the masks are coming off.