Commanders Need Perfect Draft to Fill Glaring Holes in Team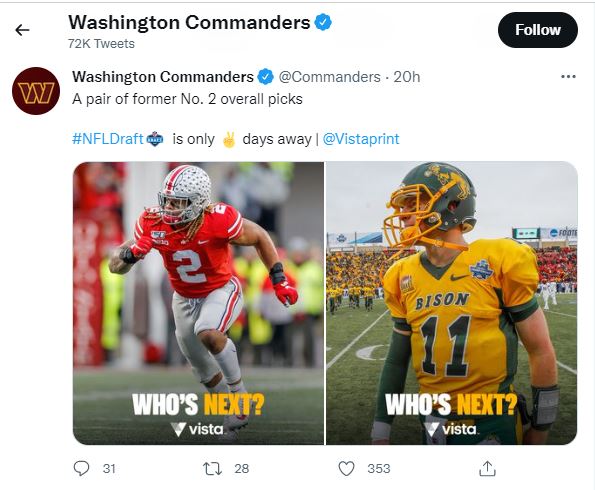 When the offseason started, the Washington Commanders had glaring holes to fill, but free agency is almost over, and they have made zero notable moves to fix those mistakes. They will have to have a perfect draft if they want to become a playoff team next year. 
The Washington Commanders have the 11th overall pick in this year's draft. Washington acquired Carson Wentz in a trade package that solved their QB problem. The Commanders' biggest needs are offensive line and wide receiver. Luckily this year's draft is deep at the receiver position. Prospects include Garret Wilson and Jameson Williams. The Offensive Line class isn't deep but has some notable names such as Evan Neal and Ikem Ekwonu. 
With the 11th pick in the draft, those top prospects I listed above will most likely not be available. Washington will have to look for more realistic options if they want to fill their team's needs. With the teams picking before them, they will probably have a decent shot at Drake London out of USC. The Draft Network says London is an athletic wide receiver for his size. At 6'4", he has great body control, can run routes, and is excellent at catching in traffic. Another receiver that they could potentially draft is Chris Olave out of Ohio State. Olave is a refined route runner with great hands. He also has a high football IQ, and it seems like he can always find a hole in the zone. He is also very fast, with a 40 time of 4.39, one of the fastest among all receivers. 
Another need of the Washington Football Team is an Offensive Line. The two top offensive linemen will most likely not be available. One of the prospects that Washington could potentially draft is Tyler Linderbaum. Linderbaum is a center out of Iowa. The Draft Network calls him a polished run and pass blocker with good size and strength. He has a high football IQ, and he is a great leader. He also won the B1G 10 offensive player of the year award in 2021. Another potential offensive lineman that Washington could pick is Charles Cross out of Mississippi. Cross is a seasoned offensive tackle with incredible athleticism. 
8th grader Walker Harris gave his take on who he wanted the Commanders to draft."They need an offensive line, weapons such as Jameson Williams, the speedster out of Alabama who could be pretty good." 
With the draft approaching, teams will be doing everything they can to make their team better. The Washington Commanders are no different. With several glaring holes, they will have to work hard and draft the right player to make their team a contender once again.