Students Face Audition Process to Make it to Land of Oz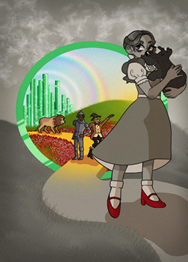 This year, the Longfellow theatre department chose to put on a beloved classic: The Wizard of Oz: Youth Edition.  But before the play could begin, they had to find the perfect cast. Here's how they did it.
During the auditions, each student had merely two minutes to impress Sarah Barry, the director, and Kimberly Dawson, the music director. Instead of giving them a script to follow, the teachers had auditioners come up with their own monologue and memorize it. This year, the monologue was about the auditioner's favorite school subject.
 "I don't really care so much about the school subject part; it's just, show me a character from the show. Show me where you fit into the cast," explained Ms. Barry. 
After the monologue, they had to sing a song of their choice. The song choice you make can determine whether or not you make it to the second round of auditions.  Any student auditioning for any future plays should put a lot of thought into it.
"Listen to the music [the character you want to play] sings in the show and find a song, not from the show, that sounds similar, [and] has a similar range and style to the song that character would sing in the play," recommended Barry.
Afterward, hopeful auditioners waited anxiously for any feedback from the judges.
"They both have really good poker faces," said Micah C., who auditioned and received the role of Dorothy. 
Although the teachers may have seemed emotionless during the interviews, they were hard at work. The decisions they have to make are done in short amounts of time and have huge consequences if rushed.  After two long days of auditions, Ms. Barry and Ms. Dawson only have one night to make the decisions about who to call back. 
After the callbacks, they have even less time. Despite Ms. Barry's poker face, she is very considerate of the auditoners' feelings.
"We actually sent [the cast announcements] out [the night of the callbacks]," said Ms. Barry, "I want the kids to have time to process their feelings not in school because we never have enough spots for everybody. Somebody always ends up getting disappointed. We want them to be able to deal with that feeling not in this crazy, chaotic environment but in the peace of home." 
Auditioning can be very intimidating to students, especially during a pandemic. However, Ms. Barry had a lot of great advice for students thinking about auditioning for future plays:
"Read the play ahead of time. If you're not in theatre class, come find me and ask to borrow the script so you can read the play ahead of time," suggested Ms. Barry. "Then, find a part in the show that you realistically think you could be cast as… and prepare for that." 
If you are worried about not having enough experience in acting, don't be discouraged.
"Several years ago, we did Aladdin, and this kid, with no experience [in acting], was like 'Oh, … I guess I'll just audition for the show!' And he got Aladdin.  All I care about is that you're right for the part." Ms. Barry reassured. 
This just shows it's never too late to try something new, especially here at Longfellow.
The Wizard of Oz: Youth Edition showings will be on May 12, 13, & 14th at 7 PM in the Longfellow cafeteria. There will also be a one o'clock matinee on Saturday the 14th. Tickets will be sold online at ETix.com, $7 for children and $10 for adults.