From Dresses to Joggers: How Fashion Has Paved a Way for Women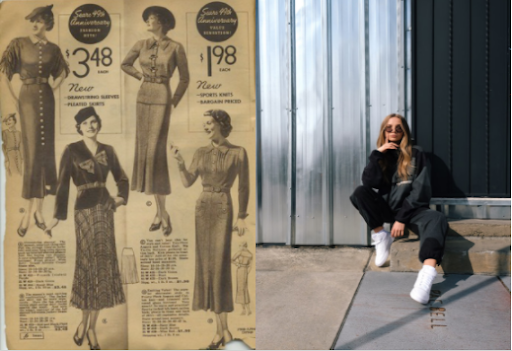 By Courtenay Klein, Ela Patel-Euler, Jean Yoo, and Tara McCormick
Fashion has always been a crucial part of social change, especially feminist movements. Through fashion, women have found a way to express themselves and protest how society thinks they should look, act, and, most importantly, dress.
During World War I, women were involved in the workforce as doctors, nurses, and ambulance drivers. However, when the war ended, they went from wearing work jumpsuits to displaying a more "feminine" look.
"There were skirts with crinoline and nipped-in waists. It was almost like women were convinced to give up on professional tracks and careers. It was almost like that role; that character it idolized became glamorous," says Alison Miller, creator of Monvieve, who designs bespoke heirloom bridal accessories and dresses across the world.
According to Miller, fashion took a turn in the 1960s when Mary Quant introduced the miniskirt. It ran in the opposite direction of the hourglass silhouette of the thirties and became almost boyish due to its loose and boxy silhouette. Fashion became fun, and women took control over how they wanted to portray their bodies.
"That paralleled all the movements of the 60s," Miller said. "You had women protesting for rights—equal rights, equal pay—and of course, we're still doing that."
In Miller's opinion, the 60s was the most powerful and influential decade of fashion. Women made it clear that they wanted change. Looking at the 70s, it's apparent how much ground was gained in the previous decade. Women wore trousers. They were working. They gained freedoms and rights over their bodies.
Recently, feminist movements and marches have been organized to protest against different events happening around the country. For example, in 2017, women used a pink hat with cat ears to protest against the 2016 presidential election.
In Miller's words, "Fashion is used symbolically, and it's very preordained." In this case, the hat symbolized sexist language used by the President when he was running for office. According to Glamour magazine, the creators of the hat claim that the color pink represents the strong association of the color with femininity, caring, compassion, and love. "It is very chosen," Miller said. "it's like, 'we're going to dress a certain way, and it's going to represent a group.'"
Today, many women are trying unique styles that are far from traditional. Miller, who works in bridal fashion, has seen brides wear tuxedos, headpieces, or differently structured dresses instead of a typical bridal gown.
Women's everyday wardrobe has evolved as well. Nowadays, women wear loose, oversized clothing and comfortable joggers instead of constricting dresses.
Fashion is an ever-changing movement. It allows freedom of expression to all, including women. Through fashion, women have found a way to let their clothing express their thoughts and feelings and even create social movements.