Student Moves to U.S. from Dubai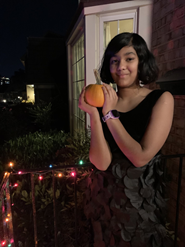 7th grader Riddhima  S., known by friends as Dee is from farther away than most. She moved here a few months ago from Dubai, United Arab Emirates (UAE), because of her dad's job. Before that, and for most of her life, she lived in India, where she is a citizen.
While in the UAE, Dee attended a British school, which has a few differences from American schools. There are some structural differences in how classes are run in British schools. For example, rather than electives, they had "specials." 
Dee never had the option of whether she wanted to learn a language or not, unlike Longfellow—she was required to learn Arabic and French.
"I liked French, but Arabic was just not me," she said.
Now, she knows Hindi, English, and some French. She says she started learning English in preschool and her school in India started Hindi classes from 2nd grade.
Dee likes LMS, especially her electives. The only thing she dislikes is the position of her locker. "I use my locker a lot, and I'm always late to class because of that," she said. Her locker is upstairs, and most of her classes are downstairs.
One of Dee's favorite things about Dubai is the amusement parks. "There were so many places there for kids," she said.
 According to the travel site TravelTriangle, there are over 40 theme parks in the city, indoors and outdoors, including a Legoland with a waterpark. 
However, she says that Dubai wasn't the best place to live for five years because of the heat during summers. 
"Most people would just leave, but the people who didn't would have to suffer very, very hot conditions," Dee explained.
Dee says she can't really tell which place she likes better since she hasn't lived here for very long. Here in Virginia, she has to get used to a whole different curriculum, a different climate, and different people. Despite those differences, she likes the same things as many other people: reading, arts and crafts, sewing, and painting.