Student Raises and Trains Guide Dog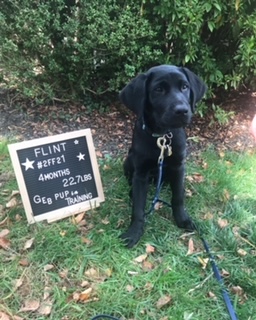 For some people, guide dogs are a necessity in their lives. They are used to help blind people get around and to help people who have seizures get to a safe space before they happen.Guide dogs can also help people with managing issues such as anxiety and depression. But these dogs have to be trained, and the industry relies on volunteers to help with this enormous job.
That's where Emma D., an 8th grader here at Longfellow Middle School, comes in. She has volunteered to raise and train a black labrador named Flint.
Emma has been training Flint through the Guiding Eyes For The Blind Organization since he was just ten weeks old. Her job is to go through training exercises with him to teach him how to control his inner puppy.
Flint posing for a picture at four months old
"We have to teach him to have good behavior, like not barking at everything he sees or chasing after squirrels. Pulling is a big one; when he's walking, we don't want him to pull towards something. The visually impaired can't see if he is going to pull towards something; they can't redirect him, so he needs to learn different things like that."
Guide dogs help people daily with challenges in their life. Individuals with vision loss throughout the world use guide dogs (also called dog guides according to The Chicago Lighthouse) to travel and get around safely and independently to and from home, work, school, and countless other places. Guide dogs can be trained at a special school or by owners themselves. The dogs have to learn how to safely guide their owners around obstacles, and the owners have to learn how to give the dog different commands when traveling somewhere new.
"[Guide dogs help people] navigate around their environment. If there's a trash can in their way, they take the person around it, or if there's a sidewalk, like when the sidewalk ends, they stop and let the person know. The dogs are their eyes," Emma explained.
It takes roughly four months for a dog to become a guide dog with professional training. Since Emma is in school and is not a professional, it will take Flint a bit longer. She has had Flint for about two months.
Emma is also learning from Flint– mostly about responsibility. She has to juggle sports, homework, and finding time to hang out with friends.
"You have to be constantly watching him or training him to make sure [he's] not
doing something [he's] not supposed to." said Emma.
Emma training Flint
She has also encountered lots of challenges along the way, including people who pet Flint without asking.
"Flint being the little puppy that he is, started getting excited and being a puppy and jumping all over," Emma said. She tried to explain that she needed to make him sit, and they laughed off his playfulness, saying, "I don't mind." They didn't seem to understand they were causing a problem.
There are many different types of guide dog breeds, such as Golden Retrievers, Labradors, Labradoodles, Poodles, Labrador Retrievers, and German Shepherds. Those breeds are used as guide dogs because they are intelligent and have the right health requirements to be successful.
It will be hard to let him go once he is done, but there is also a lot of satisfaction in training a dog to go out in the world and help people.
"I just have to remember that he has a bigger purpose than staying with me, even though I really love him, and it's going to be really sad," said Emma. "I know he is going to do something [important]."