Kellams Engages Students With Interactive Projects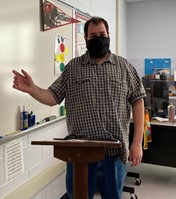 One afternoon in November, Mr. Kellams's history classroom was running like a well-oiled machine as students labored in their imaginary factories creating flashcards on assembly lines. The lesson was designed to teach industrialization while keeping the class engaged and competitive.
Super fun and interactive projects like this one are a guarantee in Noel Kellams's history class. The reality he brings to his lessons makes all the difference in hooking the students and maintaining a great atmosphere.
Mr. Kellams traveled 1000 miles from Florida, the Sunshine State, where he used to teach, to settle at Longfellow Middle School. He's been here for the last six years, really proving his commitment and care for the community.
If you talk to his students, you'll find Kellams is widely known for his laid-back, fun way of teaching.
"Mr. Kellams is a great teacher because he explains topics thoroughly and is very funny," said 7th grader Lily Dehgan.
His entertaining way of relating the material comes from his love of storytelling, but he also embraces technology. He uses interactive experiences like webquests and  build simulations whevever possible.
Despite the technology, Mr.Kellams still struggles to get all the grading in on time. He says it is very hard to meet students' standards when it comes to the speed of grading as they usually want their grades back at the end of the period.
Out of all the units he teaches, Kellams chose a favorite without hesitation—WW2. "It is the most important geopolitical event in history," he explained. With that in mind, his one message to students and the world follows logically.
"Pay attention to politics," he stated emphatically. "As much as it may be annoying, it actually is really important."