Bayer Joins LMS Admin Team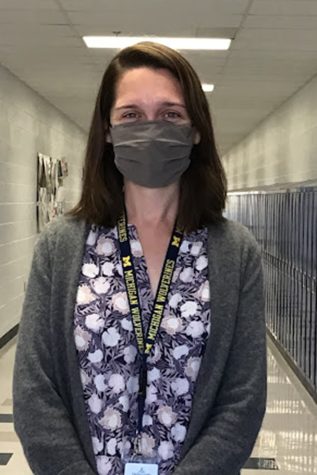 On October 25th, 2021, Dana Bayer stepped through the doors of LMS as our new assistant principal. She has big goals for Longfellow and is ready to accomplish them.
"I love this community and love all of the wonderful things that the school has done to support students and to help them grow," Ms. Bayer said.
She is also very experienced working with students. Ms. Bayer started teaching as a high school English teacher, and she continued teaching for many years. Besides teaching, she was an international baccalaureate program coordinator in a middle and a high school and worked in instructional services in the central offices for FCPS as a specialist for high school English.
Ms. Bayer is very passionate about the Longfellow community and wants to be there for each and every student.
"I really care," she said. "I really care a lot about everyone as individuals, and I am so excited to partner with you and with your families to really help make this school meet the needs of everybody."
Ms. Bayer's goal is to be there for all students.
"I hope here at school we're helping you to understand how everything that you're learning is helping make sense of the world around you."
Moving to a new school with a new job can be tough, especially leaving all the people you knew behind.
"If you work in someplace long enough, you build relationships with teachers and administrators and students, and I definitely miss seeing all of those people on a day-to-day basis. Being here allows me to build new relationships and kind of extend that."
Outside of school and work, Ms. Bayer is all about being outside with her family. She enjoys hiking and seeing leaves change color. Another favorite activity is watching her kids play sports, and since she grew up in Michigan, she is a big fan of football.
As a college student, Ms. Bayer was a part of her school's marching band. She enjoyed volunteering and working in different programs. Once she finished college and graduate school, she moved to Arlington and got her first job as a high school English teacher.
Ms. Bayer is committed to Longfellow and ready to build relationships with the students here.
"I love being able to talk to [students] about things they are doing, activities that they're involved in, what they're learning in their classes, books that they're reading, what their favorite thing is that happened during the day," she listed. She is excited to get to know everybody individually, so stop and say hello when you see her in the halls.