Masks Add Discomfort to Physical Activity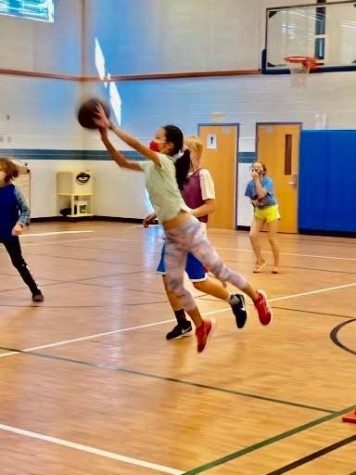 For some, the word "mask" is just like a new pair of shoes. They are weird at first, but after a while, you get used to them. But what happens when those shoes get soaked? They are wet, gross, and uncomfortable to wear, just like a mask after some vigorous exercise. 
According to their website, FCPS requires everyone to wear a mask indoors, with no exception for physical education. If P.E. takes place outdoors, students are not required to wear masks once they leave the building. However, indoor P.E. means masks must be worn. 
According to the CDC, masks are still an essential element for preventing the spread of COVID-19. It is also a crucial component for protecting yourself and the health of others. Despite these benefits, controversy has been circling in the media on whether or not individuals should wear masks during physical activities– especially if someone is exercising indoors when social distancing is limited and ventilation is poor compared to outdoors.
"It makes it really hard to breathe," said Maddie, a seventh-grade soccer player. Despite the difficulty, Maddie believes that masks are important to wear. Others expressed their difficulties with breathing, but nobody went as far as to suggest they not be worn. 
"I think masks keep us safe, especially when we are close together and playing games," said 7th grader Ester L.
Despite any complaints, P.E. Teachers are required to enforce the mask rules. 
"It's quite challenging for the teachers and students to participate in physical activity while wearing masks," said P.E. teacher Ms. Shapiro, who teaches both 7th and 8th graders. "I had students complaining that it is difficult to do activities, but they have to keep [the masks] on."
According to the Health Response document on the FCPS website, "It is recommended that teachers engage students in low-intensity activity indoors in well-ventilated spaces and engage in higher intensity activity outside." 
For this reason, Mr. Stokes, an 8th grade P.E. teacher, said that masks haven't really affected anyone's performance. 
"If you are outside running, you don't have to wear it, only if you are comfortable wearing it," 
While masks may be required to prevent COVID-19, they are not without problems. According to Healthline, researchers have discovered that wearing a mask decreases the amount of exercise time by 14%. Additionally, the maximum amount of oxygen the body uses lessens by 29%. The World Health Organization also states that bodily fluids, such as sweat, can increase the amount of moisture on a mask. This can make it difficult to breathe and contribute to the growth of microorganisms. 
Different types of masks can also impact our breathing. According to the Mayo Clinic Health System, "cloth masks or masks made of moisture-wicking material, such as polyester, typically work well. Mask material should be no more than two layers thick or less. Unfortunately, surgical masks may break down as they become wet from sweat and increased exhalation that occurs during exercise."  
As there is no end in sight for the mask mandate in Fairfax County, students can take measures to make themselves more comfortable. Consider bringing an extra mask to wear either during or after P.E., just as many students do with shoes. Another option is to keep a stash of disposables in your backpack or locker. Meanwhile, we must all wait for the time when we can once again breathe easy in P.E.