School Year Kicks off With Hispanic Heritage Month
Once a year, the United States comes together to celebrate Hispanic Heritage Month, from September 15th to October 15th, to commemorate and recognize the contributions of Hispanic people, who have inspired generations of people to never give up, despite the countless obstacles in their way.
For Spanish classes, its placement right at the beginning of the school year makes it a wonderful way to begin a lifelong education in Spanish cultures.
Spanish 1 and Latin 1 teacher Señora Valentine finds ways to incorporate Hispanic culture into her classroom right from the beginning. 
"We had assignments Making Mexican Street Corn and papel picado. We have listened to some popular songs in Spanish and are doing presentations on famous people from Spanish-speaking countries or of Hispanic heritage," said Valentine. 
Longfellow tries to celebrate our varied communities and their cultures and traditions. The goal is to make everyone feel comfortable and included. Señora Valentine shared several ways to do this. 
"We can raise awareness by sharing our knowledge with friends and families," she said. "We can sign up for the emails/newsletters from, for example, the Mexican Cultural Institute in D.C. or the Spanish Embassy. They have a lot of cultural activities. I told students about a modernized Don Quixote play that was being performed locally." The Gala Hispanic Theater in Washington DC has cultural events throughout the year.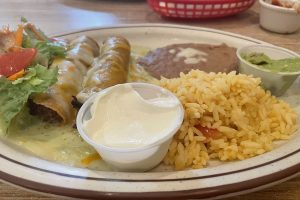 Señora Valentine also recommended some great restaurants like Ser in Arlington or El Tio in McLean. Her favorite traditional dish is a Puerto Rican dish called Mofongo. It features deep-fried green plantains mashed together with other ingredients such as pork or seafood.
If you want to support a local, Hispanic, family-owned business, La Union Restaurant is a great place to start. We visited the restaurant in Arlington, where we found affordable, mouth-watering food. 
Hispanic people make up a large portion of the current United States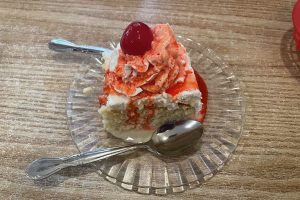 population. According to NBCNews.com, the 2020 Census shows that people of Hispanic heritage accounted for around 51.1 percent of the county's growth in population. They now make up a total of 18.7 percent of the total U.S. population.
The idea of Hispanic Heritage Month was introduced in 1968 by California Congressman George E. Brown. According to hispanicheritagemonth.gov, it began as a commemorative week. It was created to recognize the contributions of the Latino community during the civil rights movement, as awareness grew for the idea that the United States has a multicultural population. This celebration spans from September 15th to October 15th because many important Hispanic independence days fall within these dates. 
The United States celebrates this month to bring light to all the Hispanic people who have contributed to the advancement of many important industries and to our culture. Rita Moreno is a Puerto Rican actress who won multiple awards, including many Emmys, Oscar, and Tonys, along with a Peabody Award for her work. Cesar Chavez was a civil rights activist for farmers and Latin Americans. Alexandria Ocasio-Cortez, a representative of New York's 19th congressional district, is one of the leading voices for Hispanic Americans in politics.
Even with Hispanic Heritage Month already over, we can all lift up and support people of Hispanic background to the best of our ability, whether that be purchasing something from a store owned by a Hispanic family or simply educating yourself about the culture.