New Teacher, No Live Students, and No Studio: How The LMS Morning Show Made it through 2020-2021
Longfellow's Morning Show, aka the morning announcements, has come a long way since September. When the year began, everyone was at home, and the show put everything together remotely, with Angeline Z. as the face of the show.
Interestingly, Angeline almost didn't try out due to stage fright, but lucky for us, she went ahead and did it and did a fine job.
"As I remember, it was around the last day for us to try out for the show, and I suddenly felt like I would be missing out on something amazing if I didn't at least try," Angeline shared.
According to Patricia Talmadge, their biggest challenge was figuring out how they would present the show. They needed a format that could be accessed easily by teachers.
"Ultimately, after many false starts, we got a show underway," said Talmadge. "I was not going to give up! Alan Z. and Angeline Z. were relentless in working together with me to make a virtual show happen. Angeline became the 'face' of the show, and Alan worked on putting footage, graphics, and audio together."
Aria C. expressed interest in directing the News Show, so Ms. Talmadge had a core team made up of members of the 2019-2020 show. They met in an after-school program one day a week rather than doing the show during Media Communications classes.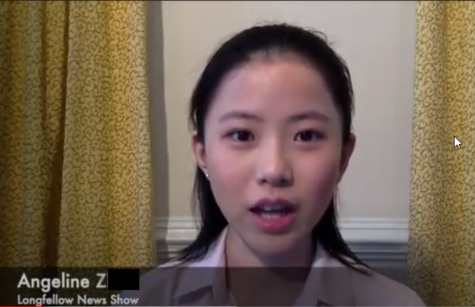 "At first, it was definitely very challenging to put together. We had to keep in contact over email and figure out ways to make the show virtual but still keep the same features we had before," explained Angeline.
Angeline said that their first graphics and slideshows took almost a whole day to figure out. After that, it became much easier. As the show progressed, they developed a very quick process where everyone knew what they needed to do. Now they could finish up the entire show very quickly, but it took a lot of work and experimenting with different ideas to get there.
"The crew has been able to utilize some of the graphics and footage from previous shows (pre-Covid). The show is then exported and placed on a slide on LMS Central for teachers to play," said Ms. Talmadge.
Typically, people send announcements and other newsworthy items to Talmadge, and she sends them along to the News team. They create graphics and record a voice-over to accompany that. They were using WeVideo to edit the show before they transitioned to their current live broadcast.
"Right after Spring Break, Alan presented me with a written proposal of how to create a 'live' virtual show," said Talmadge. We started troubleshooting and rehearsing in the studio recently, with Aria acting as show director and Matthew L. acting as floor director. We have since brought in some 7th graders so that they can learn the process."
As they've moved back into the studio, they are also getting rid of most of their equipment as they transition from analog to digital.
"The equipment is starting to arrive!" Talmadge said excitedly.