NBA Takes Big Hit From Coronavirus, Looking to Make a Rebound in 2021
From Alaska to China, there is no doubt that fans are a huge part of making the nail-biting moments and the buzzers-beaters of NBA games exhilarating.
 The league was shut down On March 11, 2020, when NBA player Rudy Gobert tested positive for the Coronavirus. The news came up just as his Utah Jazz team was scheduled to tip-off against the Oklahoma City Thunder. That game was never played, and the entire NBA season was quickly suspended. The season was resumed later, on July 30, in the Orlando "Bubble" with no spectators.
COVID-19 regulations in the bubble were very strict, stating that you had to stay 6 feet from one another and be wearing masks at all times.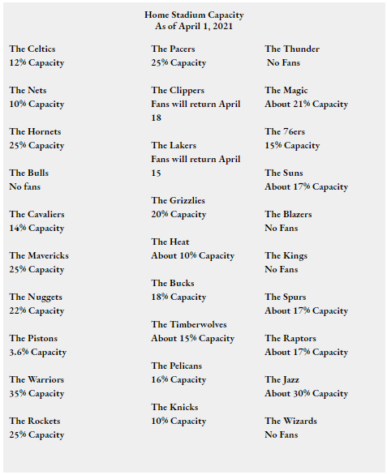 "The lack of fans has affected my watching experience by making the end of the games less intriguing," said Nathan B, an LMS student, and sports fan. "For example, when a player makes a big shot at the end of the game, the whole arena is silent, whereas if there were fans, the whole arena would immediately erupt. When there is more noise from the crowd, it makes you a lot more excited, and it makes you want to keep watching the game."  
 Although players were forced into the bubble last season, they are back in their home arenas this season. Since the beginning of the 2020-2021 season, teams have been trying anything they can do to get fans back in arenas. For example, the Miami Heat have used COVID sniffing dogs to keep fans safe.
 "The league said that fans will not be allowed to sit courtside at games and must be at least 15 feet behind either team bench or 10 feet from the sideline. Any fan going to an NBA game must fill out a questionnaire about their health status and must wear a mask unless eating or drinking," explained reporter Matt Traub from Sports Travel, a magazine dedicated to updating people on sports news. "Fans with tickets within 30 feet of the court must also either return a negative COVID-19 test within 48 hours before tip-off or pass an NBA-approved test on the day of the game. Those same fans will not be allowed to eat or drink in their seat. Testing would not be required for fans in arena suites if the suite or club were filled to 25 percent capacity or less."
 Fans are more than ready to return.
"If I could go to a game even at the risk of COVID, I would, because of the very tight fan regulations. If stadiums are at such a low capacity and the risk is very low, I would not pass up the opportunity," said Nathan.
 We have seen crazy ways teams have tried to keep safe from COVID-19. One example was the Miami Heat's sniffing dogs. CNN's Jacqueline Howard describes how it works.
 "Fans will line up in a screening area on socially distanced dots, keeping their hands at their sides. The dogs will walk past each person, sniffing them. If the dog keeps walking, you are clear to enter the arena. If the dog sits next to you, the Miami Heat says, that signals to the handler that it might have detected COVID-19. A staff member will then help you and your party with a refund and provide additional health and safety information — but you and your party will not be allowed to enter the arena," the report says.