Valentino Shies Away From Their Traditional Style to Symbolize Effects of Pandemic
There is no denying that all that has happened during the pandemic has changed our definition of "normal," and the world of fashion is one place we see those reflections. The fashion industry's Haute Couture is considered an art form and a way for designers to express themselves. Valentino's has been a leader in Haute Couture, and their fall 2020 collection, designed by Pierpaolo Piccioli, showed a dramatic response to life during the pandemic.
"According to the Oxford Dictionary, art is the expression or the application of human-created skills, and that certainly happens in fashion," reflected art teacher Diana Gibson. "We see how designers use fabric and materials to create their designs, and it's just delightful to see the current fashion. Also, their reflections are current as we've seen with Valentino's recent collection."
According to CNN Style, as a fashion brand Valentino is usually known for bright colors and beautiful motifs, but in the fall 2020 haute couture collection titled "The Performance: of Grace and Light." The collection consisted of 16 pure white dresses. This came as a shock for a lot of people. People were expecting vibrant colors like Valentino is known to do, but this was the complete opposite. 
"Valentino Garavani said that 'Elegance is the balance between proportion, emotion, and surprise,'" said Ms. Gibson. "I feel like there is definitely emotion, and there is surprise going on. I think that it is important for designers to respond to certain current events."
Though there were no vivid colors that people were expecting, there were some crazy lengths and materials used in the dresses. Both the proportions and the lack of color are symbols of how our world was feeling during the pandemic. 
"The all-white clothing seemed to really represent how the colors in our lives began to fade as an invisible enemy took control of our everyday customs, habits, and little traditions that once brought us happiness, interrupting our dreams, and shutting off our spirits, leaving us with a colorless palette of unpromising hope," said 7th grader Zoya. 
We were so far from normal, and no one had expected what was going to happen. This was unlike anything that we had experienced before, and it hit us like a bus. When Piccioli went all white, it was an expression of how this was so unlike anything we have gone through. 
Zoya described the pandemic as leaving her feeling empty and dreading the moments to come, with the only light burning coming from the hope that this would pass.
"I feel that the light was well represented in Valentino's collection because despite the clothing having a lack of color, they were each unique. The designs were quite eccentric, ornamented with massive ruffles, laces, feathers, and shimmery adornments. Each ensemble seemed to shine just as bright as any of their more colorful collections."
"I think it sort of represents a pause, don't you think? The lack of color," said Family and Consumer Sciences teacher Catherine Czfria. "I think they did a very good job."
Czifra worked as a manager in the retail clothing industry for many years and always looked forward to seeing what the buyers would bring in.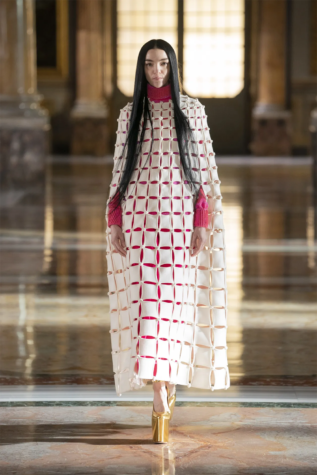 After their stark white response to the pandemic, their most recent collection continues to build on the symbolism of the pandemic, but more specifically how we are trying to come back from it. In the fall of 2021, Valentino showed 73 looks ranging from basic to extravagant. The thing that stood out to a lot of people was that, although there were more of the eye-catching colors Valentino is known for, they were always paired with a white. The white can be a reference to the pandemic we are still living in, and the color is for the normality we are trying to get back to. 
"In their most recent design, it seems like they are experimenting more and exploring the possibilities in response to the pandemic with a little bit of movement away from the elegance that they go for," said Ms. Gibson.  
 A few celebrities, including Zendaya and Cynthia Erivo, have also been seen wearing outfits from Valentino's most recent collection. Zendaya wore a gown with a white bodice and a bright orange skirt at this year's Critics Choice Awards. Cynthia Erivo wore a structured lime dress with the pairing of white gloves to the 2021 Golden Globes.
"I think that Valentino, in general, is a trendsetter, and part of the importance of what they do on the runway or with their new launches is to set the bar really high," said Ms. Czifra. "What happens is it trickles down into the ready-to-wear lines. They come in bold and strong with something, and the ready-to-wear lines take that and bring it down to the everyday customer."
The subtle hints of white in these more vivid outfits are a lot different from their all-white collection, so it is interesting to think about what they will do for their next couture collection. Will they reference their last two collections, or will they go with something completely different and more familiar. A lot may depend on how the next few months go as we continue to recover from the pandemic.